Image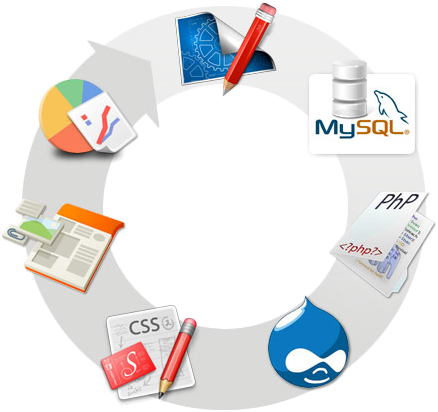 Drupal is an open-source creative web design software widely used by high-profile businesses and organizations, such as The White House, NASA, MTV-UK, and Yahoo Research. It is a Content Management System application that enables rapid creation, management, and publishing of content on the web in a steady organized manner. The cost of web design can be high whenever a Content Management System (CMS) is needed.
Drupal for Web Design
Drupal website design is an award-winning CMS having a collection of many great and creative web design features such as multi-user administration, community interactivity, and news aggregation.
The community of Drupal users has gathered a pool of creative web design resources to promote and give support to online users. The flexibility of Drupal website design to adapt to almost any circumstance is well proven by a wide range of business entities from sole proprietors to huge corporations. Intrepid Network Inc. proudly supports the Drupal Association as an Organization Member.
High Profile Websites Using Drupal
A number of high-profile sites were using or migrating to the Drupal creative web design platform. These include Lime.com, Ubuntu.com, Yahoo Research, The New York Observer, Warner Bros. Records, Fast Company – a business and technology magazine with over 200,000 pages, Popular Science – used by universities with over 60,000 pages now redeveloped to move to Drupal website design.
Web Design with Drupal is Highly Modular
Drupal being highly modular can provide a solid foundation for website designing. Free Drupal website design modules are constantly being written and provided online to satisfy nearly every user's creative web design requirement. These modules come by the thousands and produce a mind-boggling array of Drupal website design capabilities. When a particular web design module is needed for some specific requirements, then it isn't difficult to write and produce the customized module to satisfy those creative web design preferences. Because of the dynamic nature of Drupal website design, it cuts the website development process significantly shorter and the equivalent cost as well.; Maintenance cost is lowered also.
There are thousands of Drupal creative web design module contributors on the internet and over 200,000 members. A tech support team guarantees the security and safety of Drupal website design user installation. They provide web design software patches and updates for Drupal to run more securely and stably.
Over time web design content get out-of-date. This causes problems when sites still flash offers that have already expired but remained unnoticed.  Drupal website design prevents this from happening by placing the creative web design contents on pre-set schedule dates – when to go live and when to expire.
Conclusion
Creative web design using Drupal establishes more competitive pricing as a consequence of lowered costs brought by the software's open-source nature. Drupal website design is also SEO friendly; therefore, it is extremely easy for us to integrate our expertise into the initial production and ongoing life of your website.
---